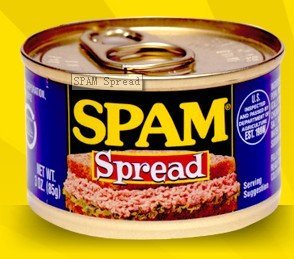 The Editor
Haslemere Herald
Dear Sir
The other day I was excited to receive a beautifully wrapped Jiffy bag through my letterbox. It had been mailed from the States and bore the correct postage and a perfectly addressed and printed label.
I opened it in the kitchen. You can, I'm sure, understand my surprise when I drew from it a tin of Spam. As it happens, I quite like Spam, or Spiced Ham, especially in fritters with chips. peas and tomato ketchup. I already had a couple of tins in my larder, just in case.
I am writing to you because I am sure that this unusual event is the beginning of a new surface mail problem. The Internet's habit of sending UCE (Unsolicited Commercial Email) or Spam to the world's inboxes has now spread. It's a worrying trend. Something must be done!
I dropped my unwanted Spam straight into my wheelie bin. My recycle bin was clearly inappropriate.
Yours sincerely
Jeremy G Barnes